Ulmus glabra Wych elm (also Ulmus procera-English elm)

Amelanchier alnifolia (Juneberry), Rosaceae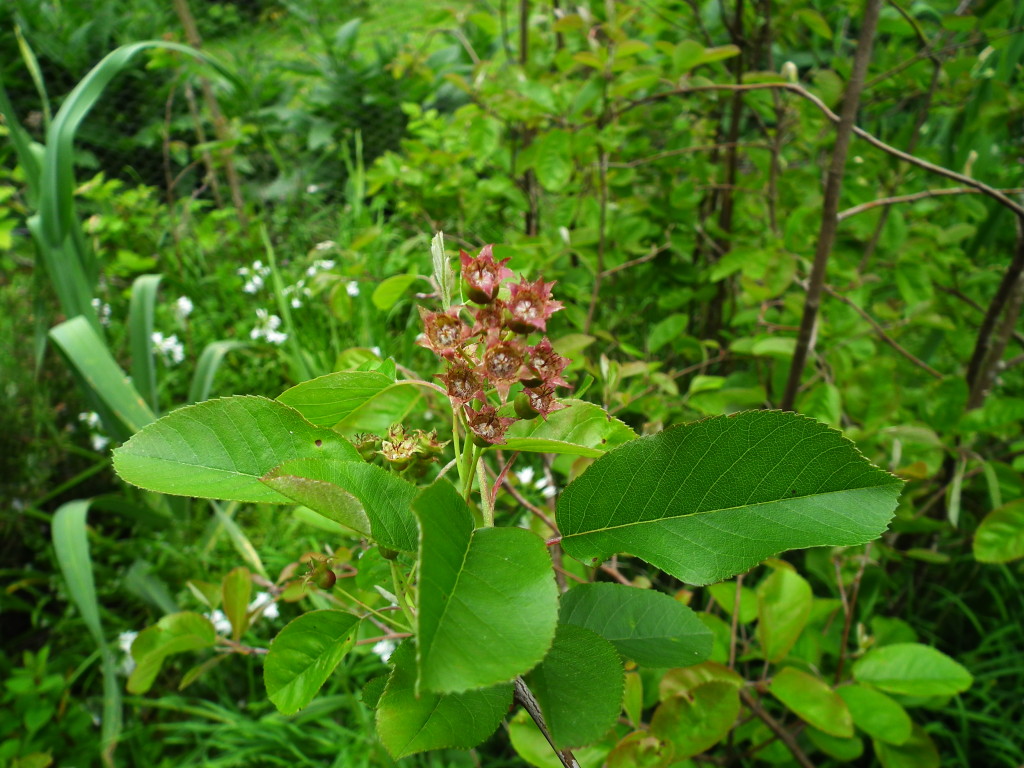 Young fruits developing.
These open June–July and have a pleasant sweet flavour. Unfortunately, the birds love them too – so you have to net them if you want to eat them.
Scorzonera hispanica (Scorzonera), Asteracea or Compositae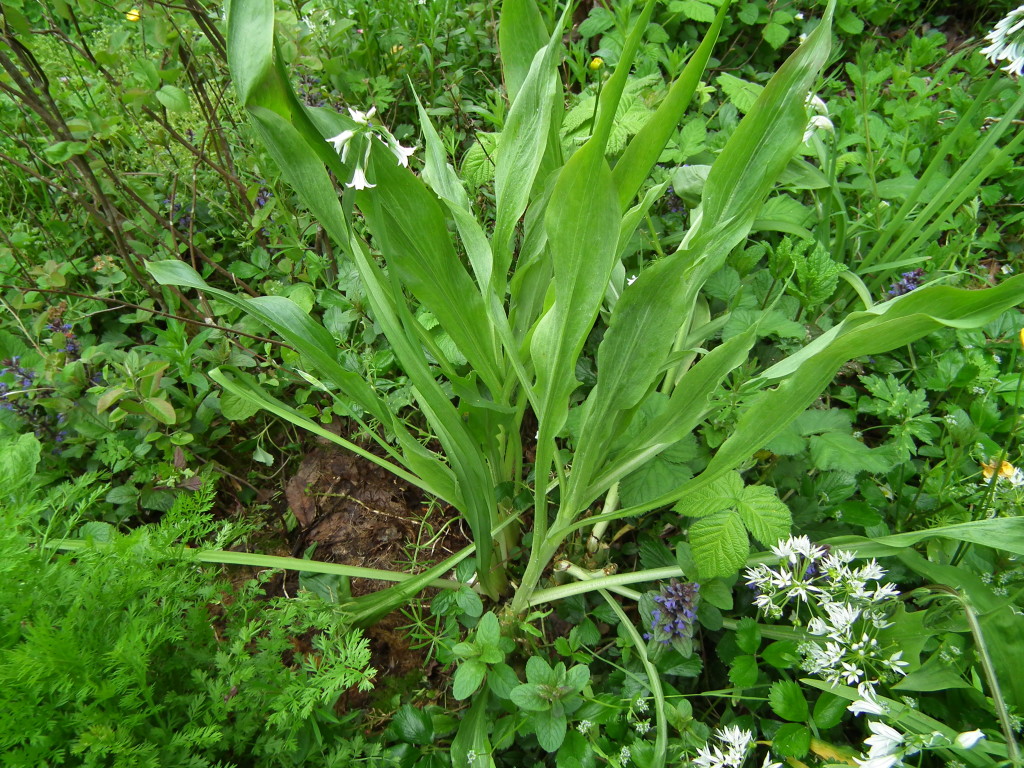 A perennial vegetable with edible leaves and a large edible taproot. Closely related to salsify (which is biennial).
Allium paradoxum (Few-flowered Leek), Alliaceae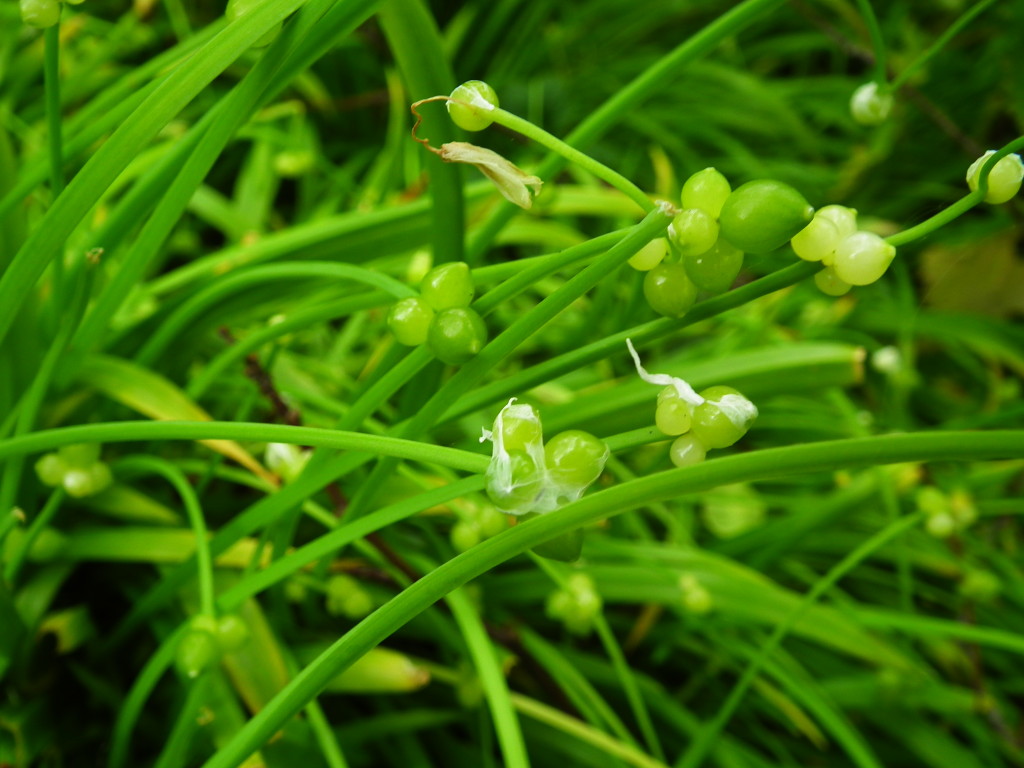 Bulbils developing.
Crataegus monogyna Native Hawthorn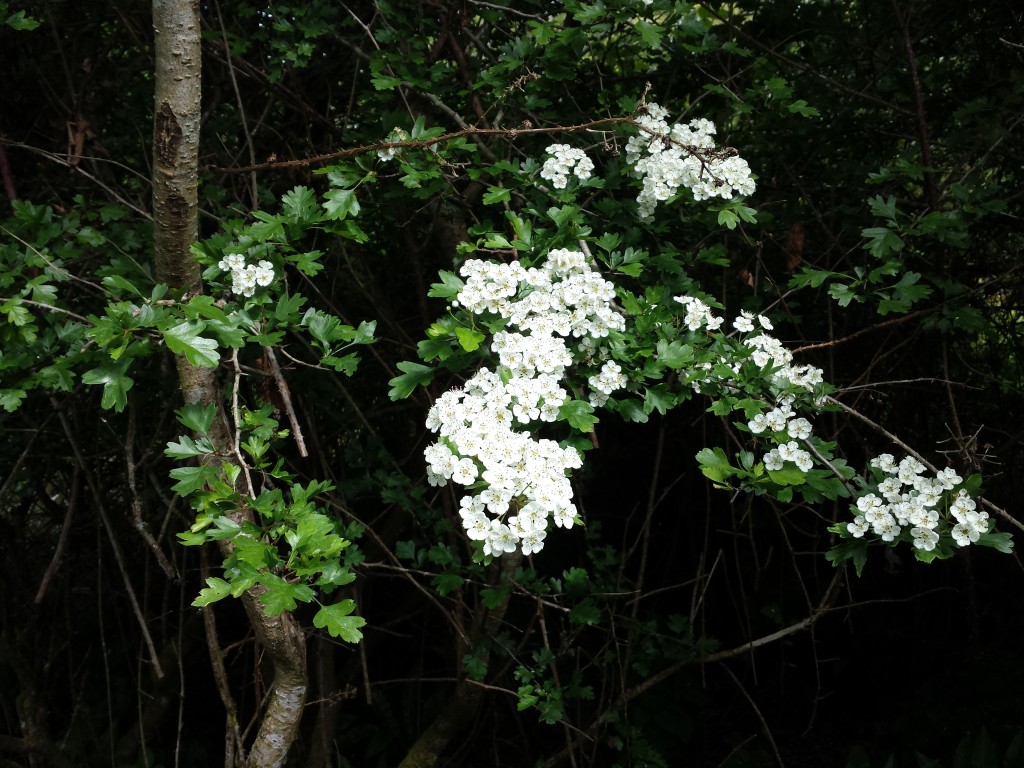 This native woodland edge tree comes into leaf early in the year. The fresh young leaves are edible raw in salads – or just pick and eat from the tree! They are rich in nutrients.
The flowers and fruits can be made into a tea which is good for the heart. The fruits are edible but rather small and mealy.
(see other hawthorn species later in the year, with larger, nicer fruit )
Tillia species lime tree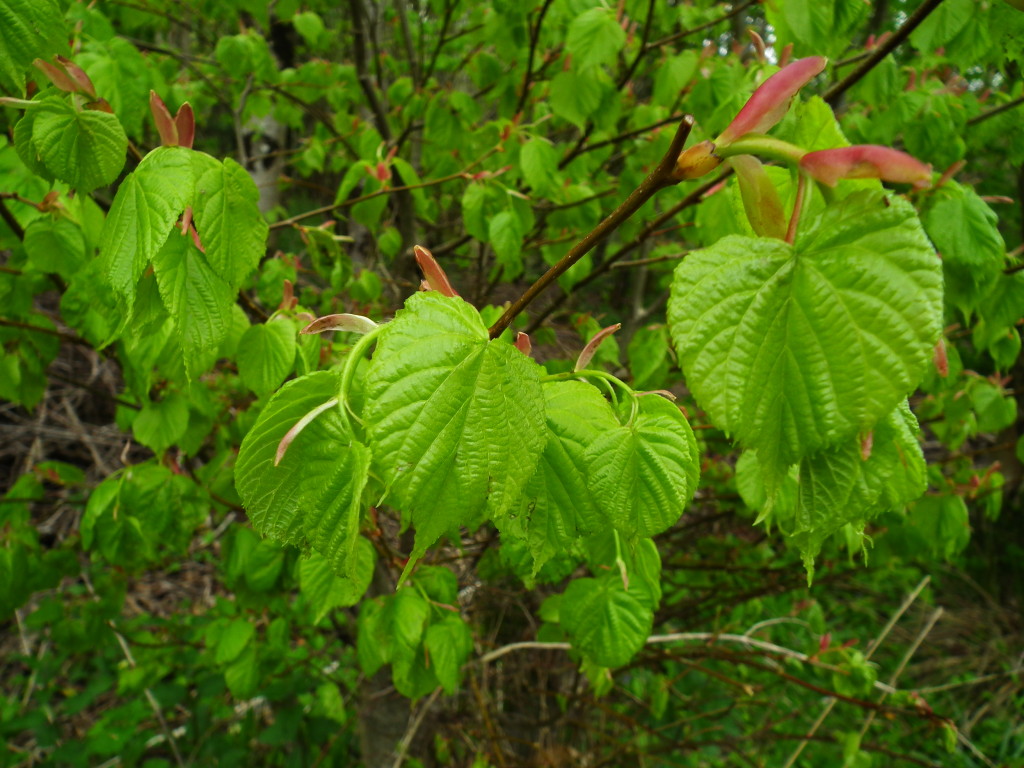 This is my favourite edible tree leaf. When young and tender, the leaves are very mild and pleasant.
Fagus sylvatica Beech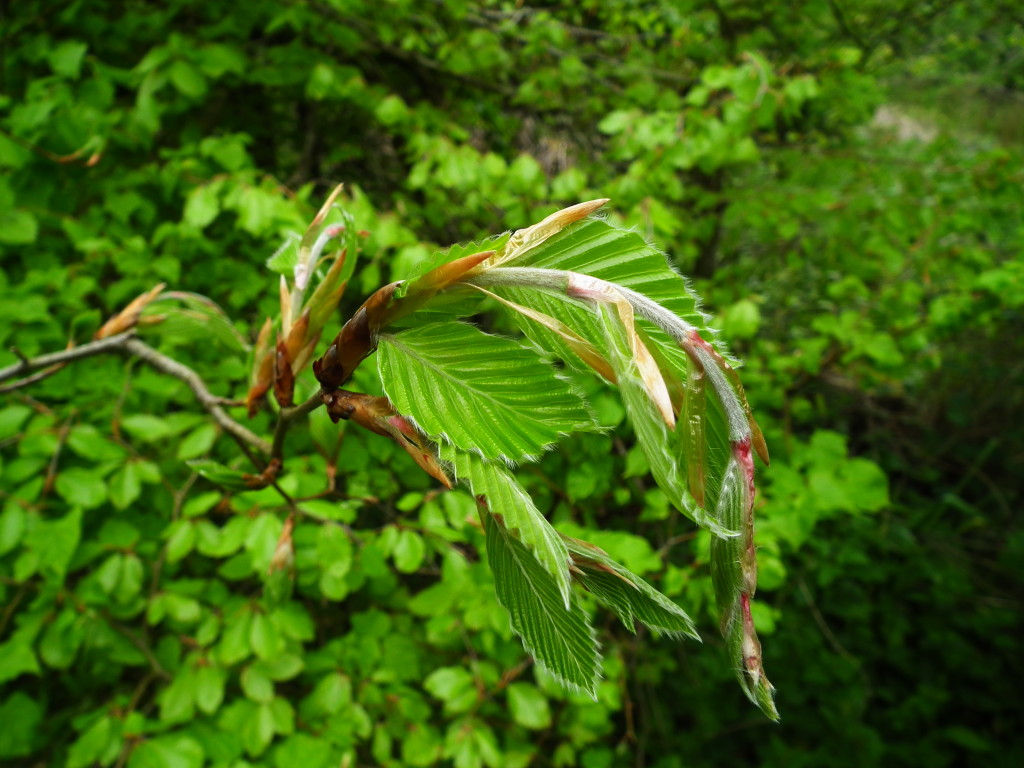 The leaves are edible when young and tender. The nuts are also edible later in the year- though small and fiddly.
Allium triquetrum Three-cornered leek, Alliaceae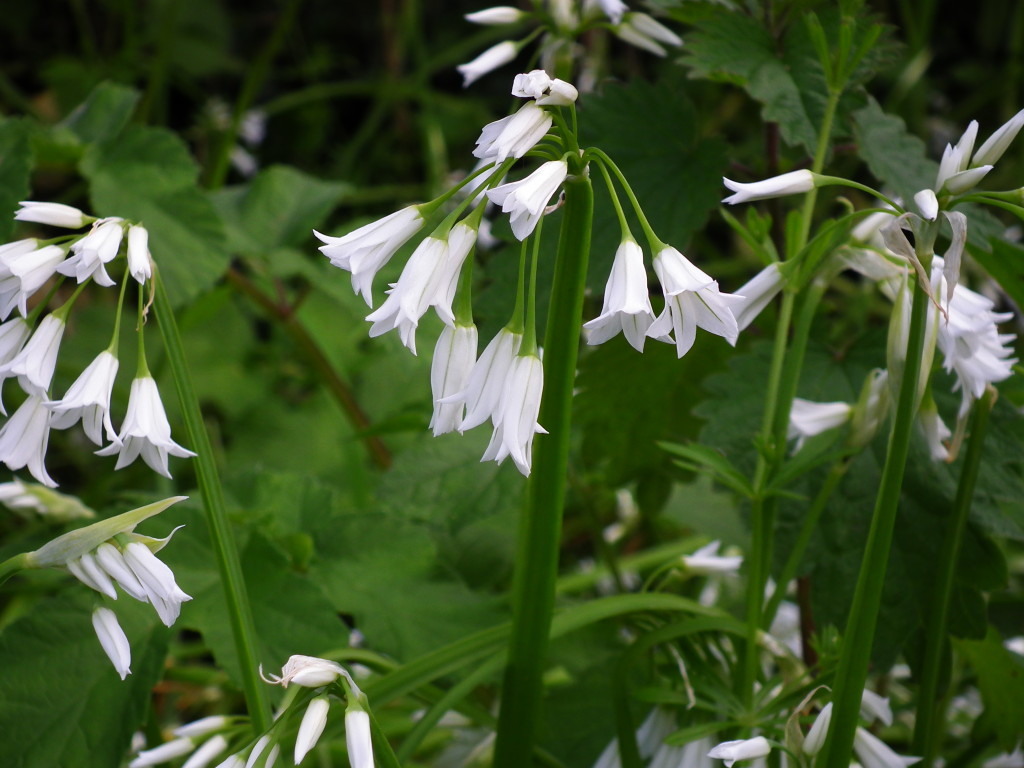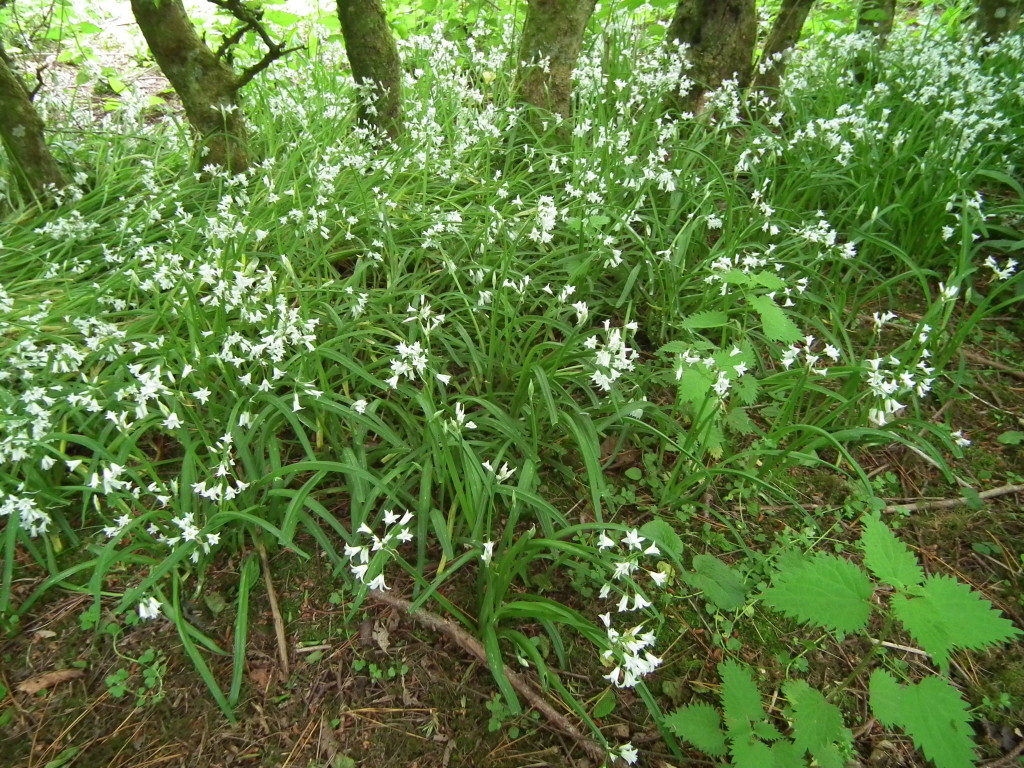 This is now flowering. The flowers are also good to eat. This grow particularly well in the semi shade of native trees
Foeniculum vulgare Fennel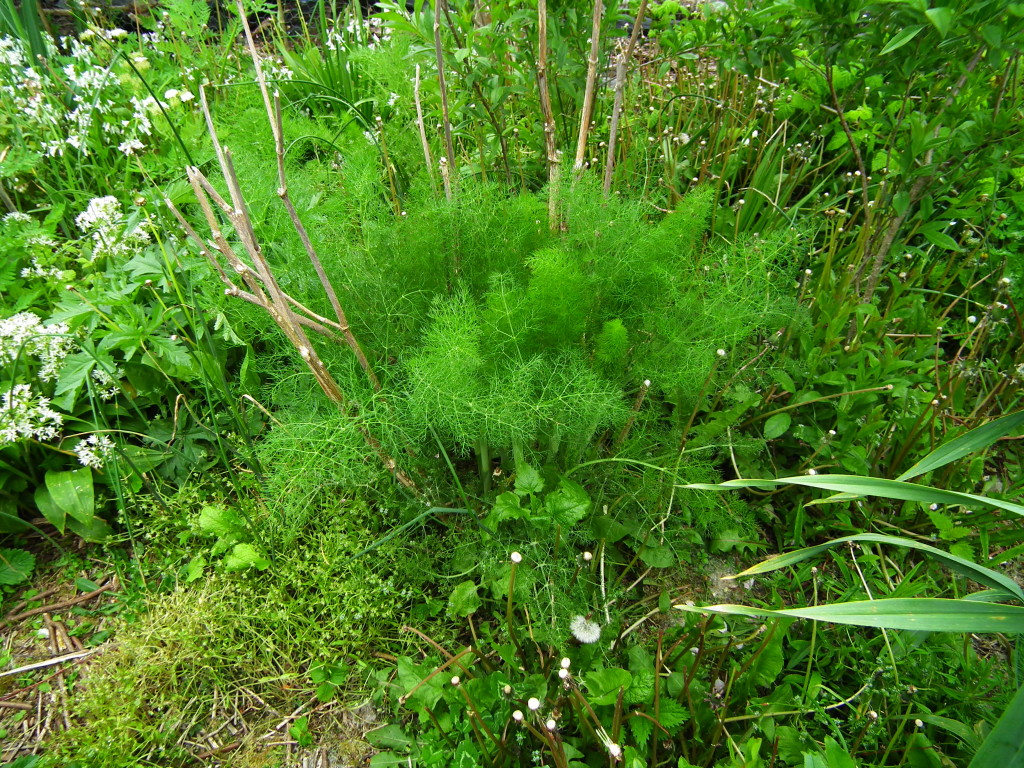 The young leaves have an aniseed flavour and are an excellent addition to salads. The flowers and seeds are also edible. It is good for the digestion.
This plant is the perennial herb and not the biennial bulb.
Malva moschata (Musk Mallow), Malvaceae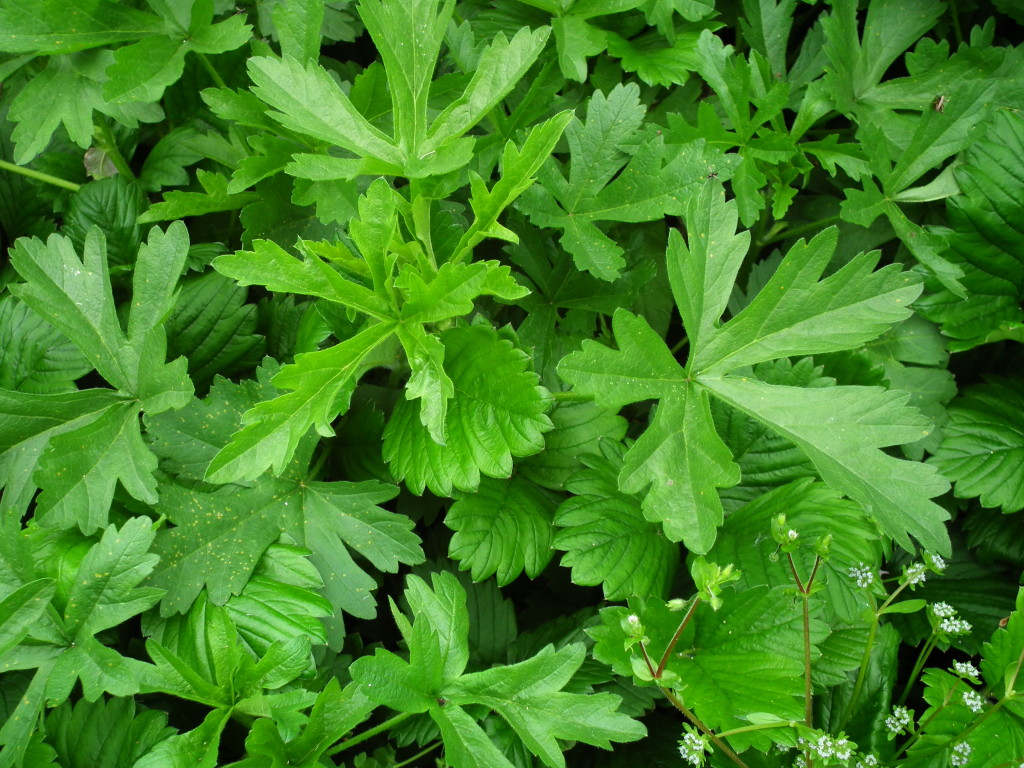 These edible young leaves have a bland flavour and a mucilaginous texture. The idea of a mixed salad is that you use the bland leaves such as this one as a base, and add in the strongly flavoured leaves according to what you like.
The flowers and the seed heads can also be eaten.
All mallows are potentially edible.
Allium ursinum (Wild Garlic), Alliaceae
Myrrhis odorata (Sweet Cicely), Apiaceae or Umbelliferae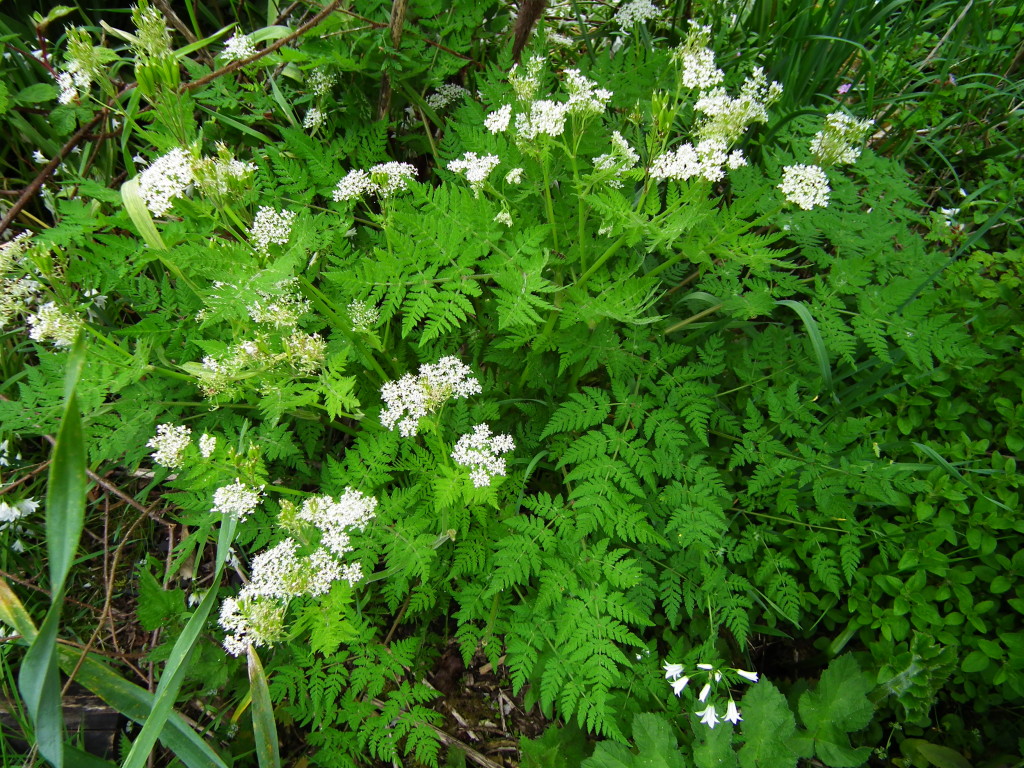 Now flowering. The flowers and seeds are edible.
Malus domestica (Apple), Rosaceae, In flower.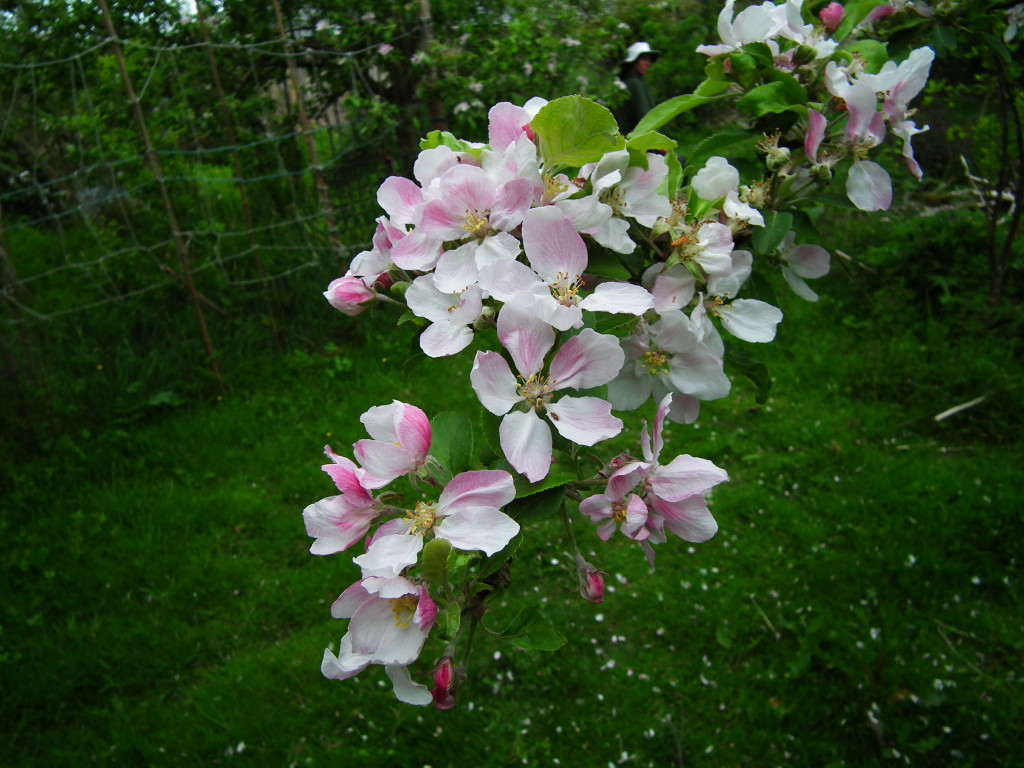 a) 'Page Street'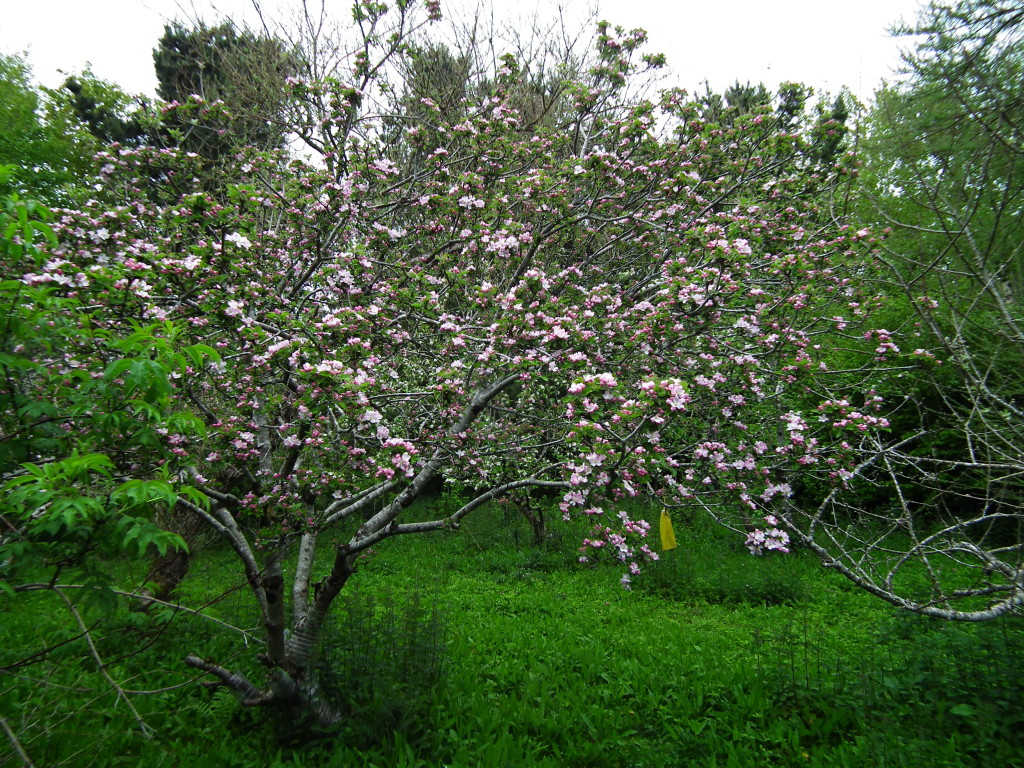 b) 'Edward VII'
One of the delights of this time of year is the apple blossom. We have over 100 different varieties of apple, ranging from the very early (ready for eating in August) to the very late (for storing until June the following year), and everything in between.
Campanula persicifolia (harebell)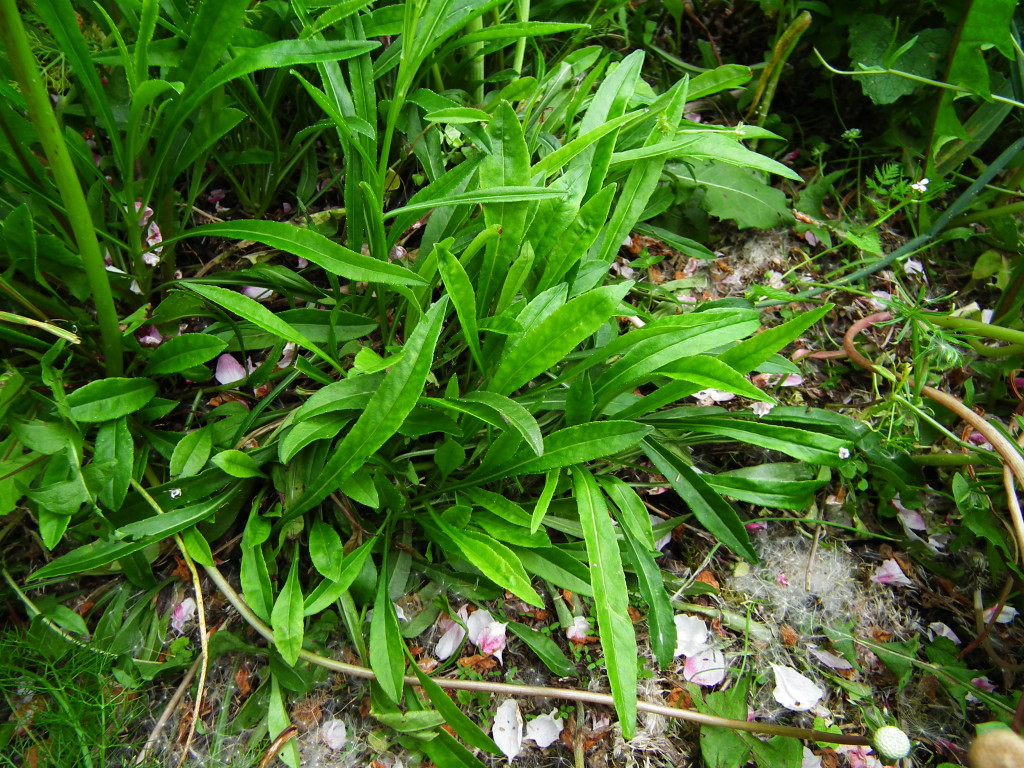 The young leaves and shoots are pleasant to eat. The flowers are larger and better to eat than those of C. poscharskyana.
Sorbus aucuparia (Rowan), Rosaceae, flowers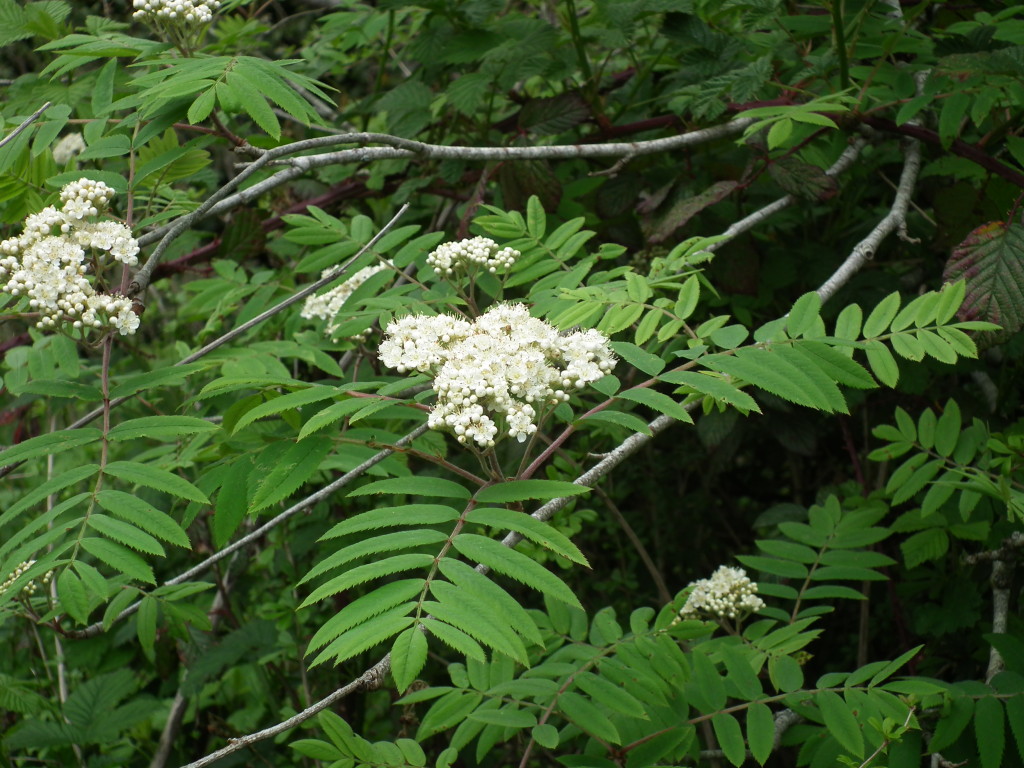 The small orange berries that come in the late summer are used for making jams and jellies. If eaten raw they are difficult to enjoy, but there is a larger-fruited cultivar that is said to be more palatable.
The trees are useful in an orchard, as the berries help to keep the birds off the developing apples.
Sorbus torminalis (Wild Service Tree), Rosaceae, in flower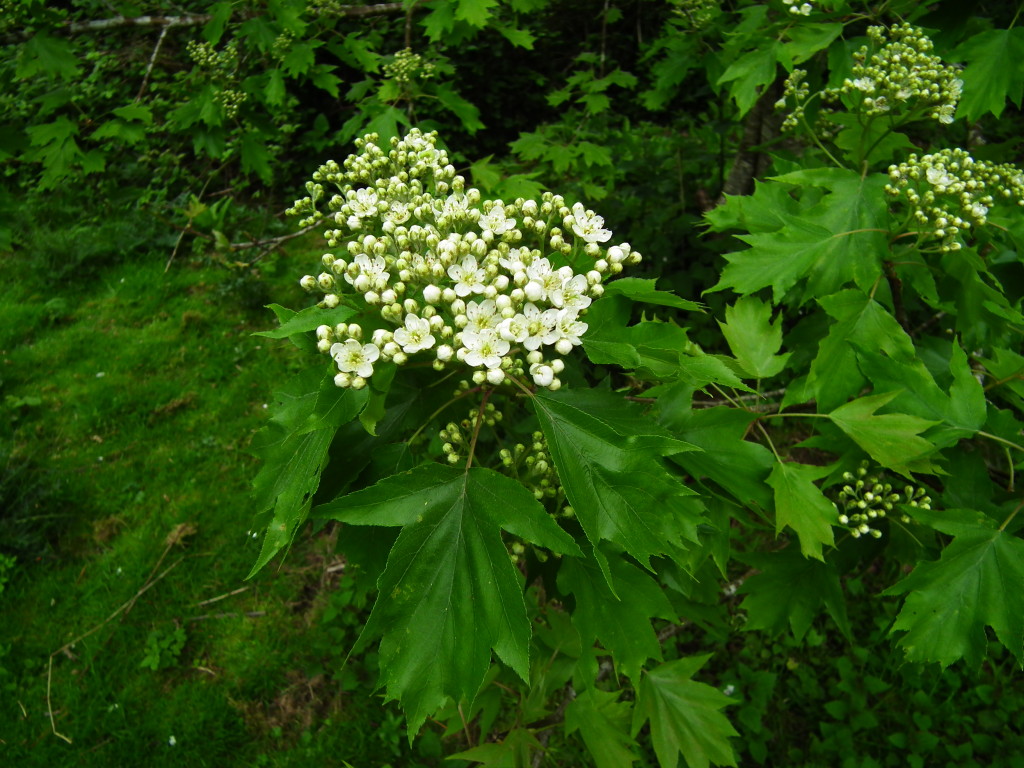 The small fruits are edible when bletted.
A related species, S. domestica, has larger fruits that are delicious when bletted. (Take care not to over-blet, as they will then continue fermenting inside you, with very uncomfortable results!)
Rosa rugosa, Rosaceae,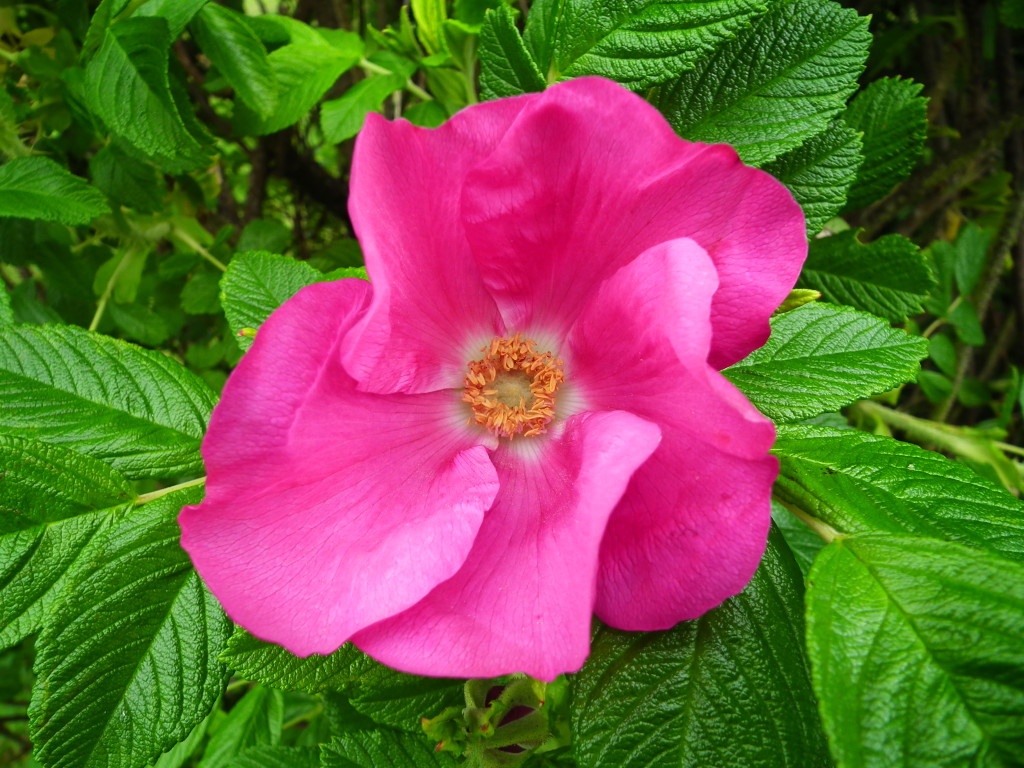 now flowering
Berberis (Barberry), Berberidaceae, flowers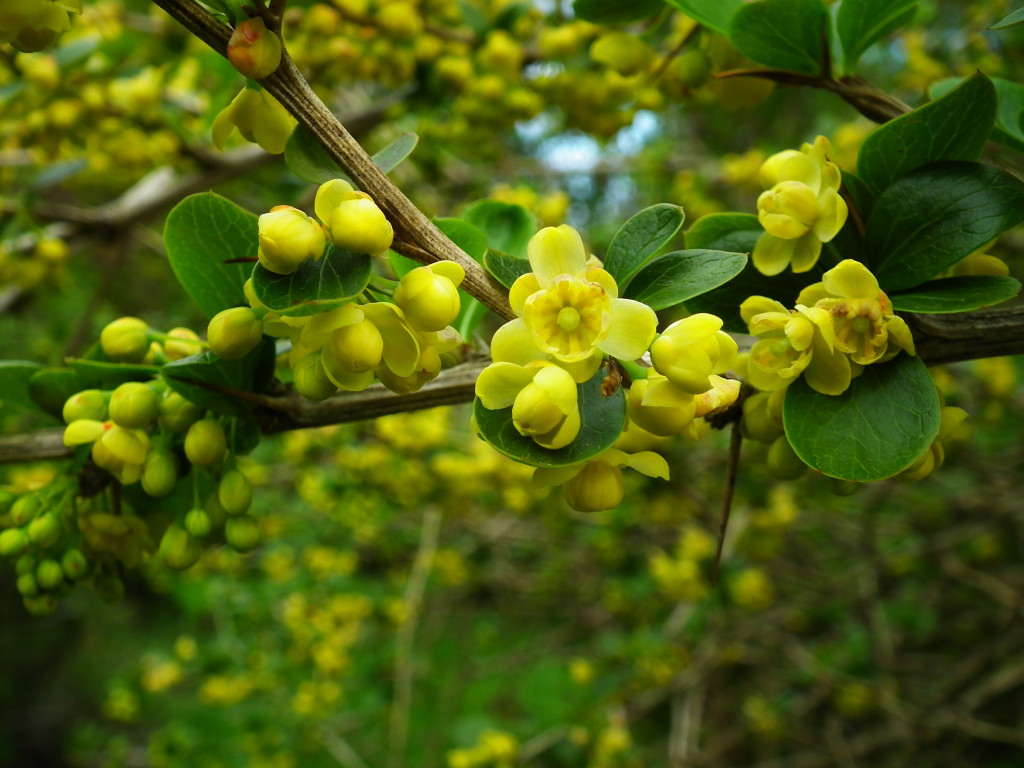 Unknown species, with fruits ready in September–October. These are red and tasty, with the same medicinal properties as other barberry fruits.
Berberis vulgaris (Common Barberry), Berberidaceae, flowering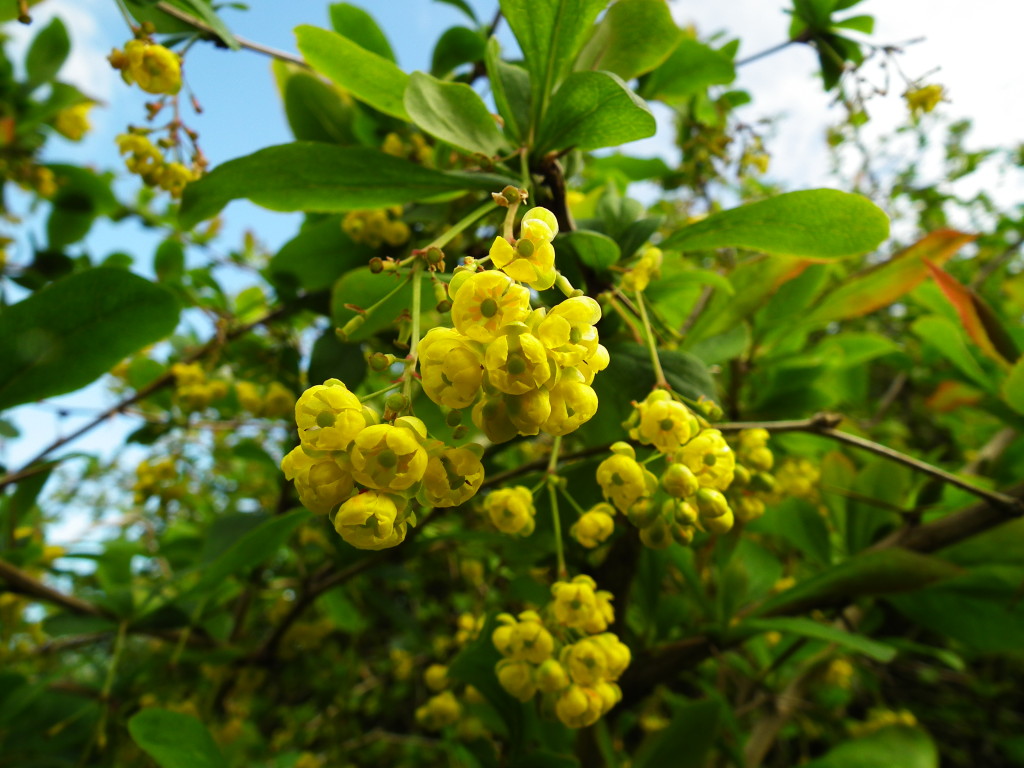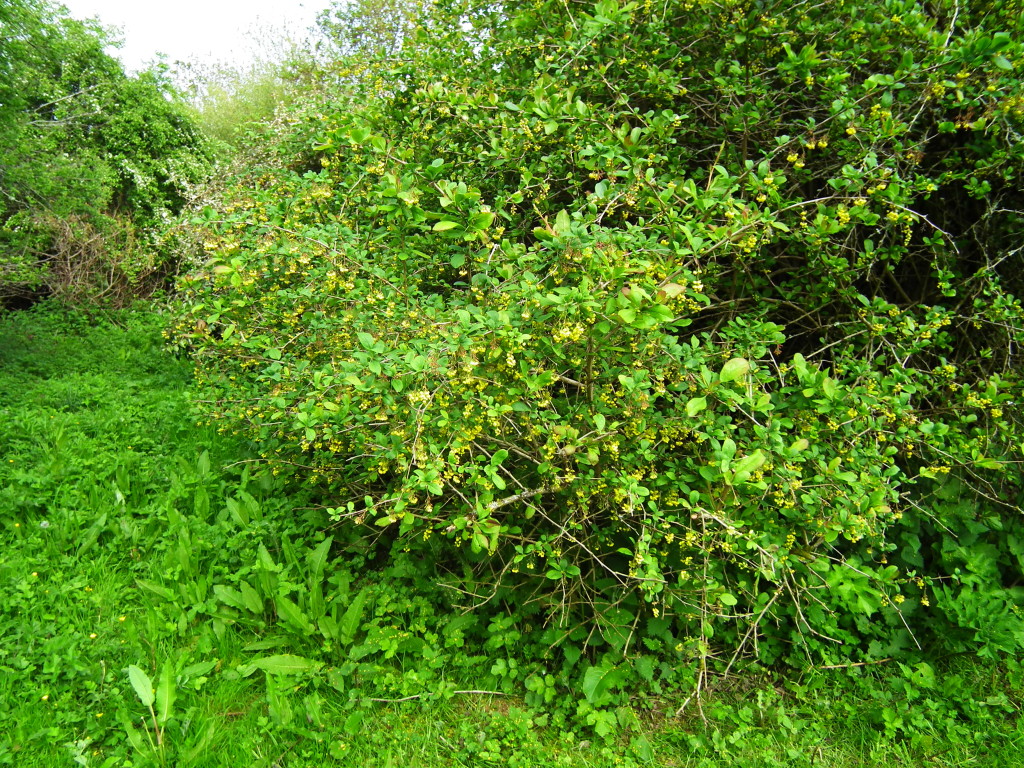 This is the native wild barberry, whose red fruits ripen August–September.
Bees love the flowers, which are rich in nectar.
Many species of wild bee thrive on our land because for a very large part of the year there is a wide variety of flowers for them to feed on. And, of course, we use no chemicals on the land!
Pittosporum tenuifolium (Tawhiwhi), Pittosporaceae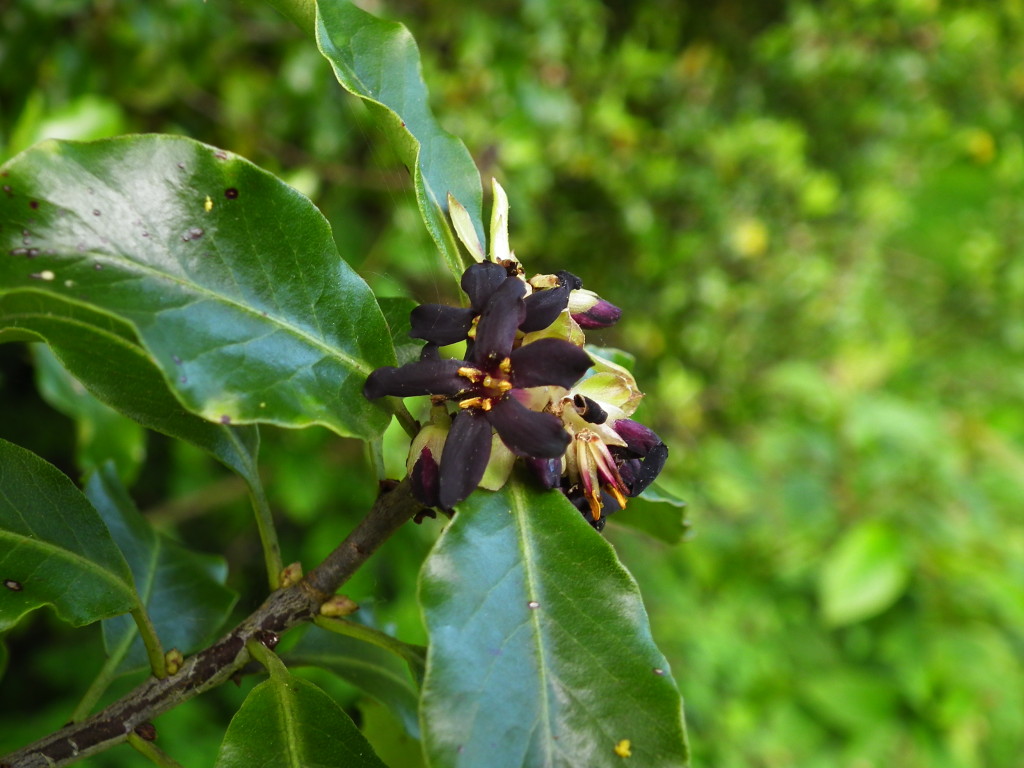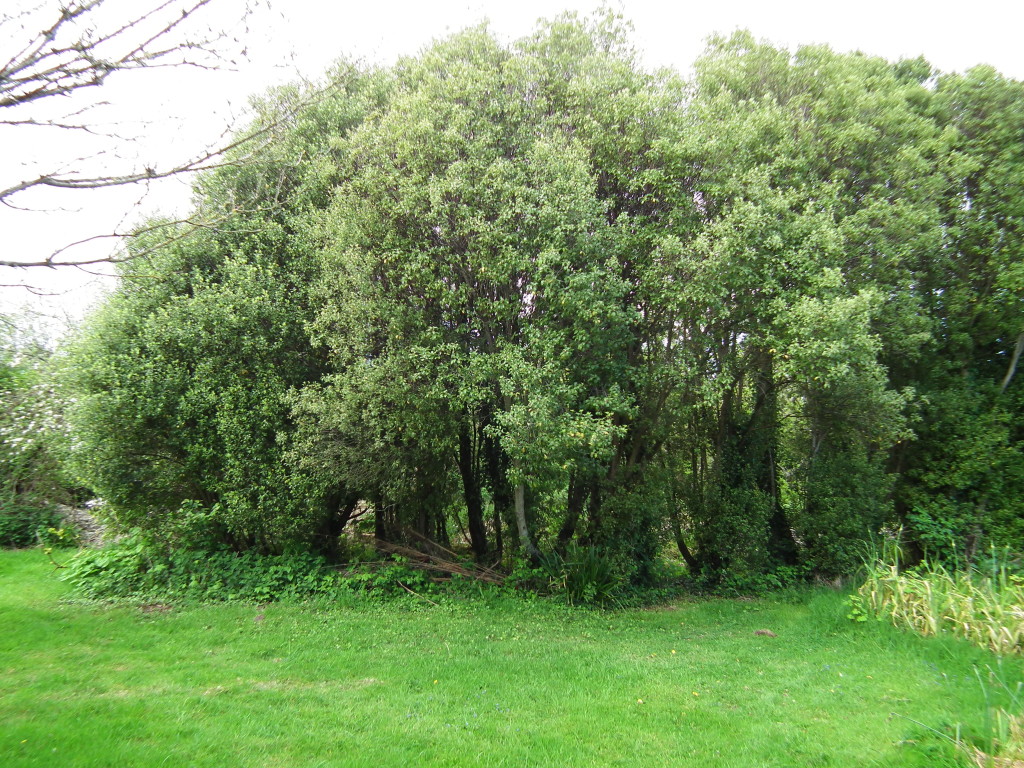 This makes an excellent fast-growing and wind-resistant evergreen hedge.
The flowers have a beautiful scent and are very attractive to bees.
Menyanthes trifoliata (Bogbean), Menyanthaceae, growing in the pond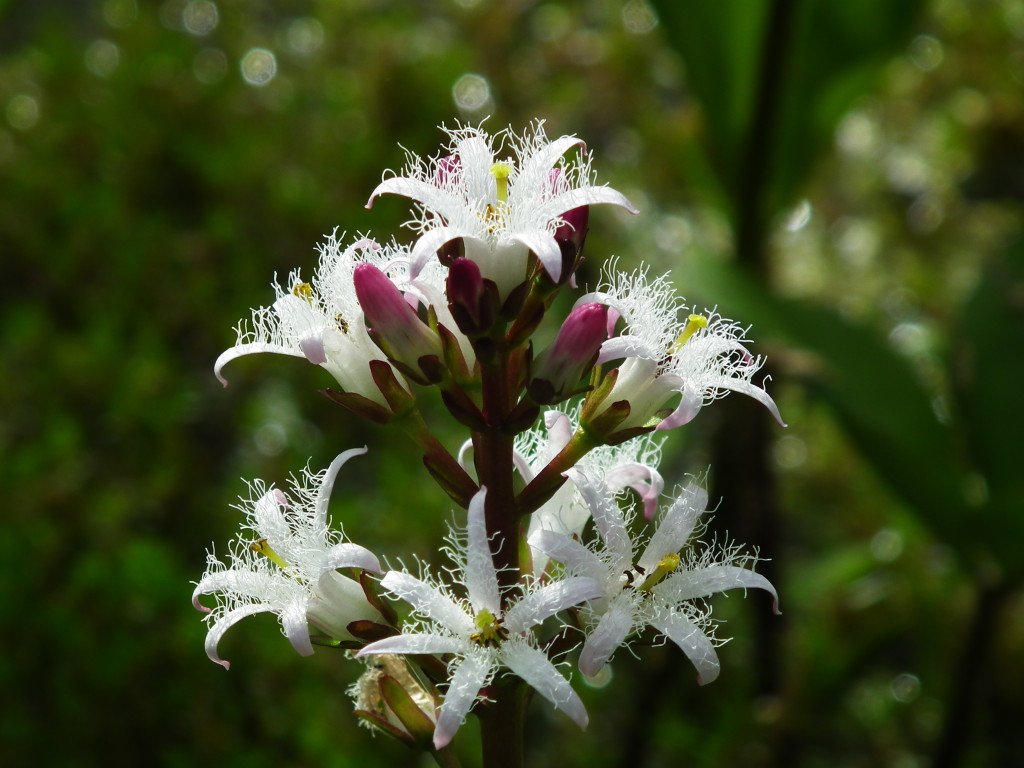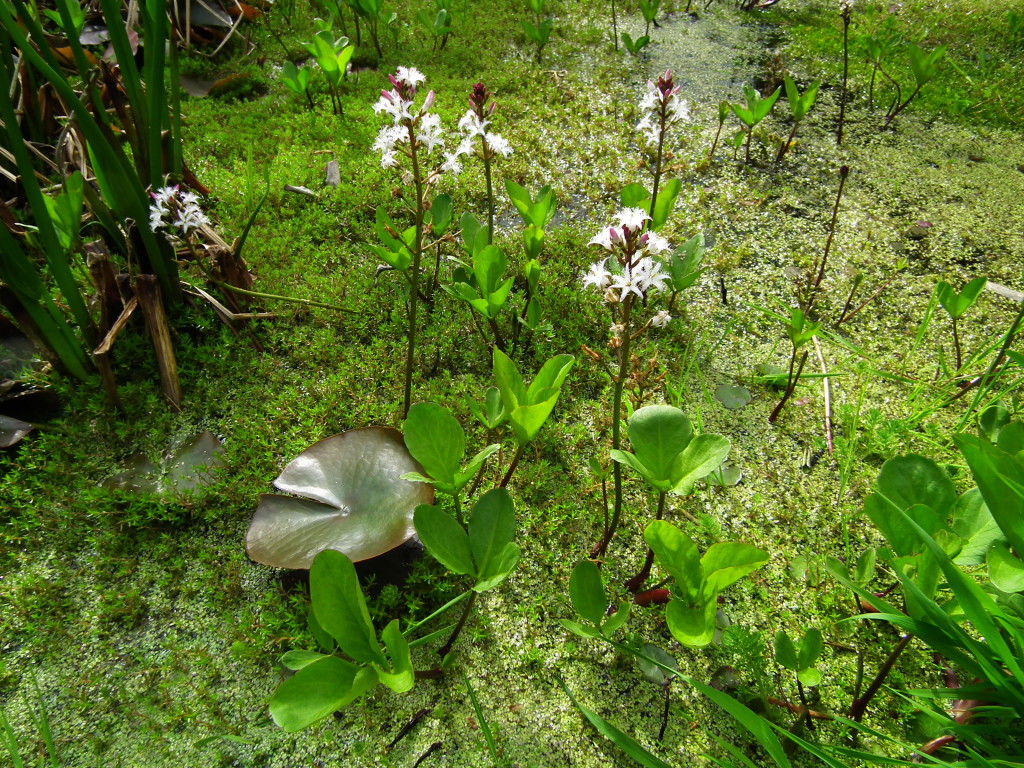 The root of this plant is an excellent (and very bitter) digestive and liver tonic, similar to gentian in its properties.
Rosmarinus officinalis (Rosemary), Lamiaceae or Labiatae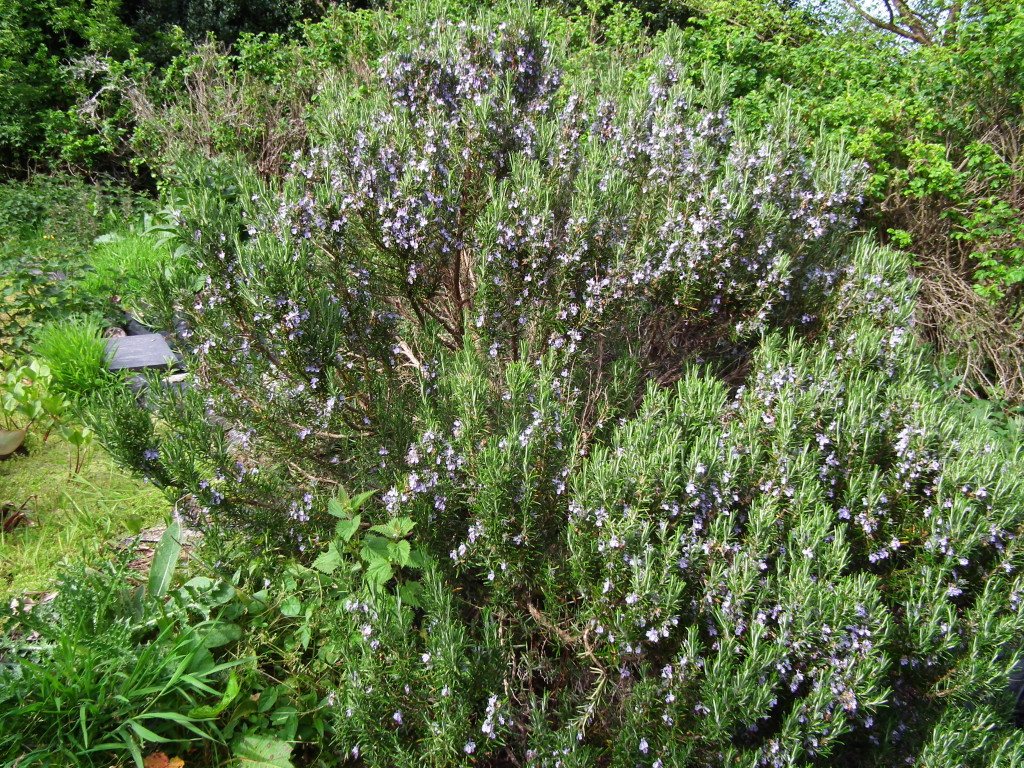 This is a very useful health-promoting anti-oxidant herb. It can be used in cooking, in herbal teas, or in very small proportions in salads.
Aronia arbutifolia (Red Chokeberry), Rosaceae, flowering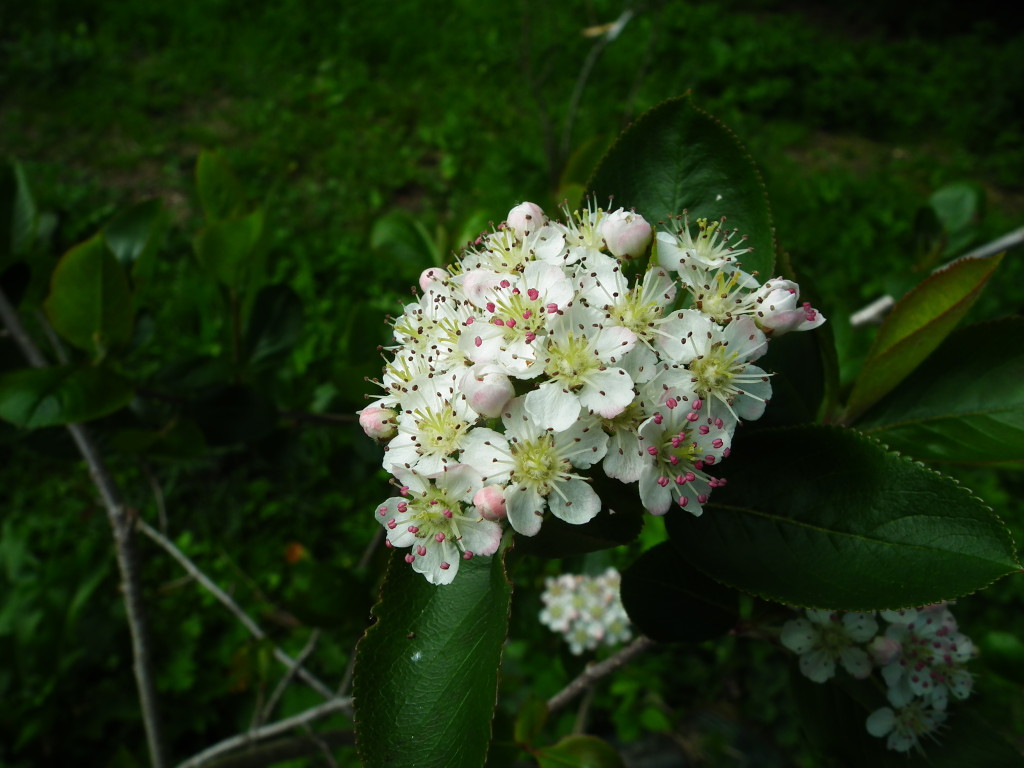 The fruit is a superfood, rich in many micronutrients. It is now being grown commercially to add body to fruit juices.
Elaeagnus multiflora (Cherry Silverberry), Elaeagnaceae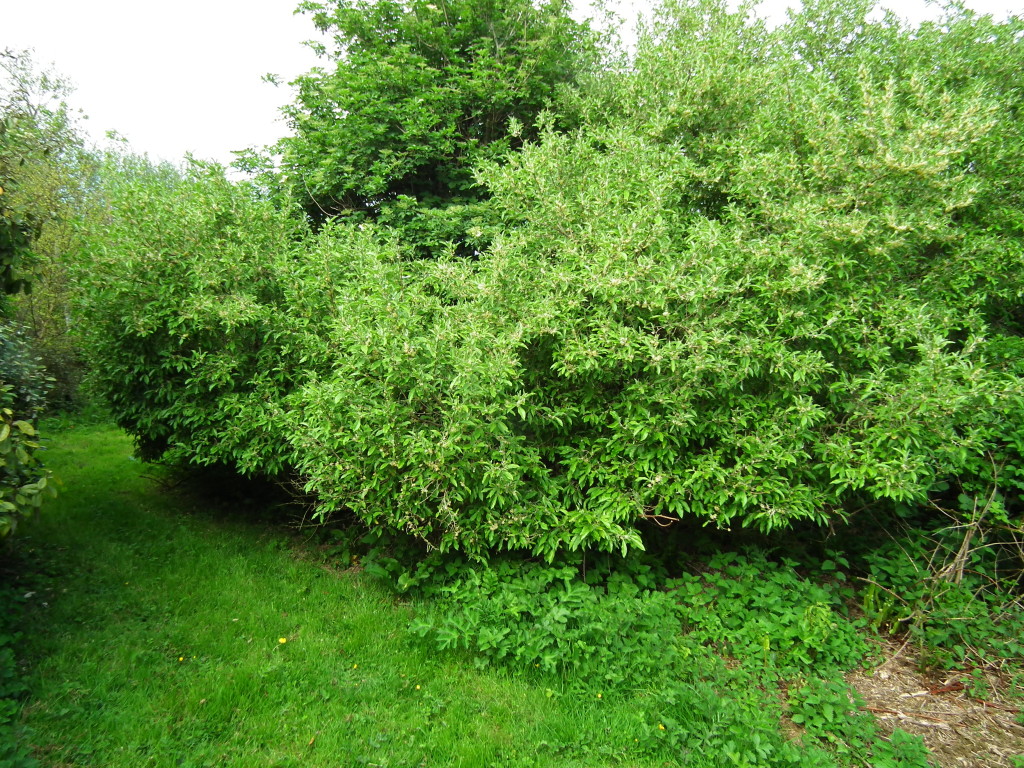 This is one of the deciduous species of Elaeagnus. It flowers in the spring and fruits in the autumn. The fruits are smaller and less astringent than those of the evergreen E. cordifolia, which fruits in March.
Rheum x cultorum (Rhubarb), Polygonaceae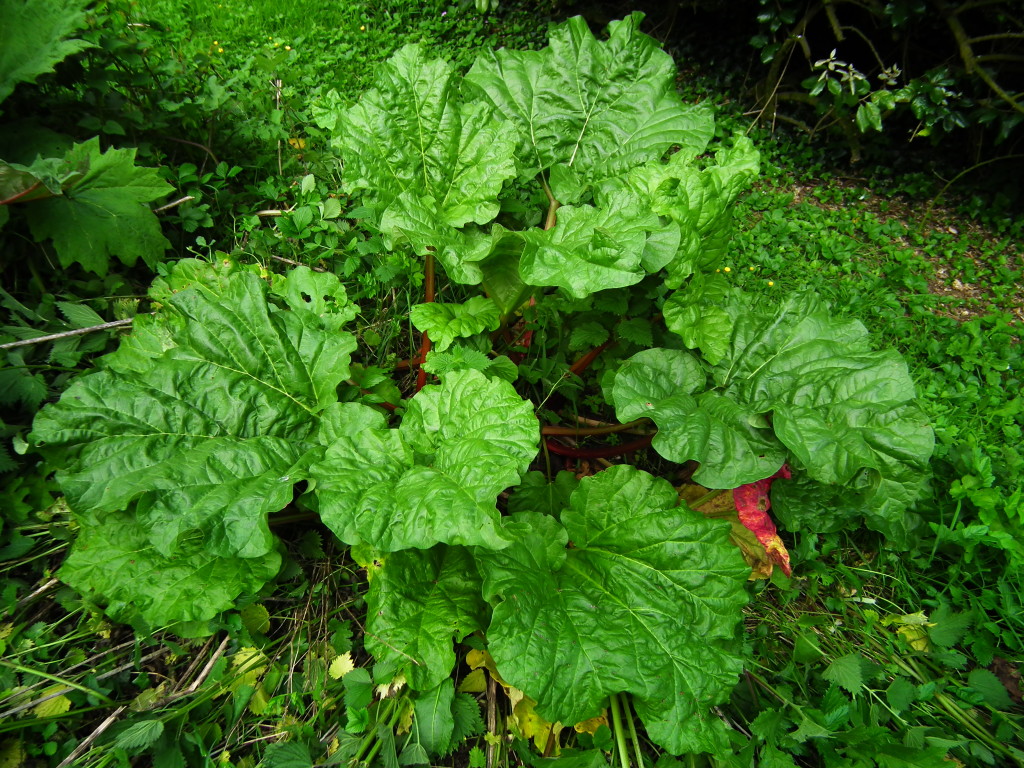 The large petioles (leaf stalks) are eaten in spring and early summer as a fruit substitute. Like sorrel, though, they are rich in oxalic acid, which tends to rob the body of minerals – so don't eat too much of it!
Rheum palmatum (Turkish Rhubarb), Polygonaceae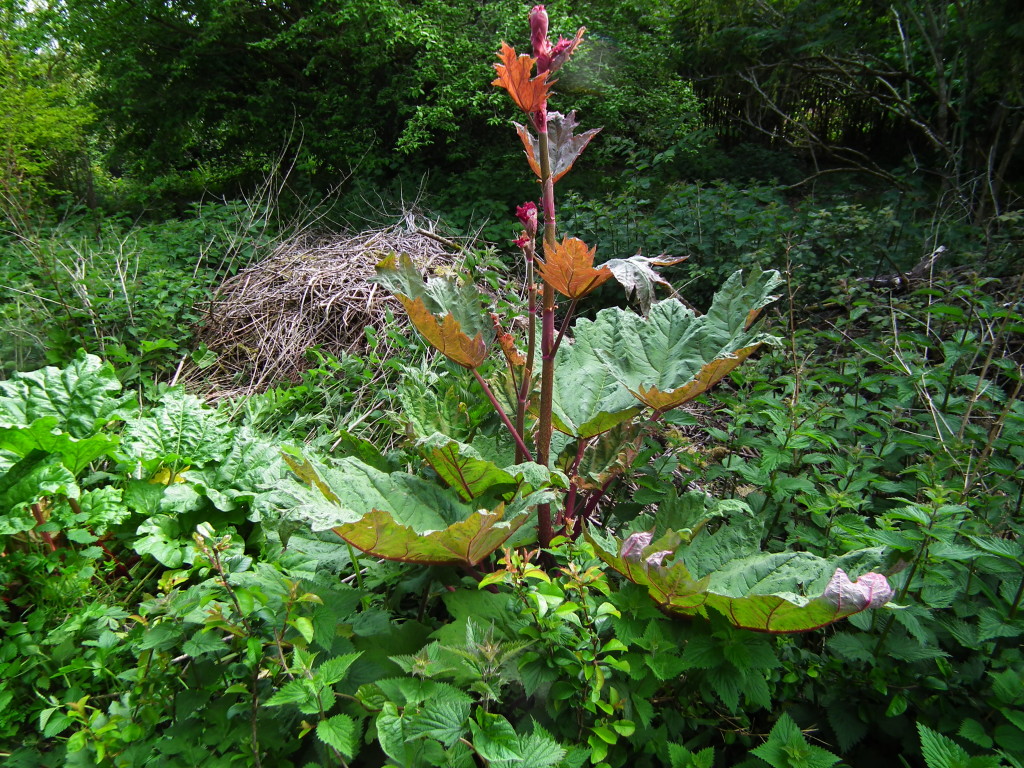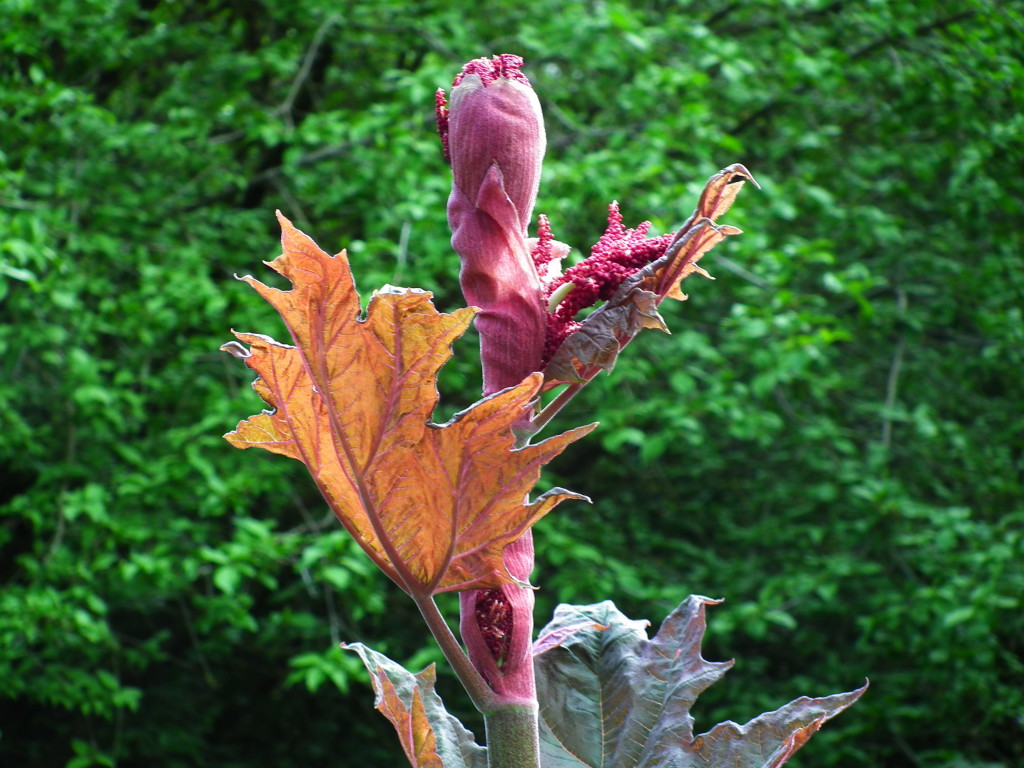 The stems and leaf stalks have dark red spots. The plant goes to seed and produces beautiful flowers. It can be used in the same way as ordinary rhubarb, but is more strongly medicinal (helpful for both constipation and diarrhoea).
Campanula glomerata (Clustered Bellflower), Campanulaceae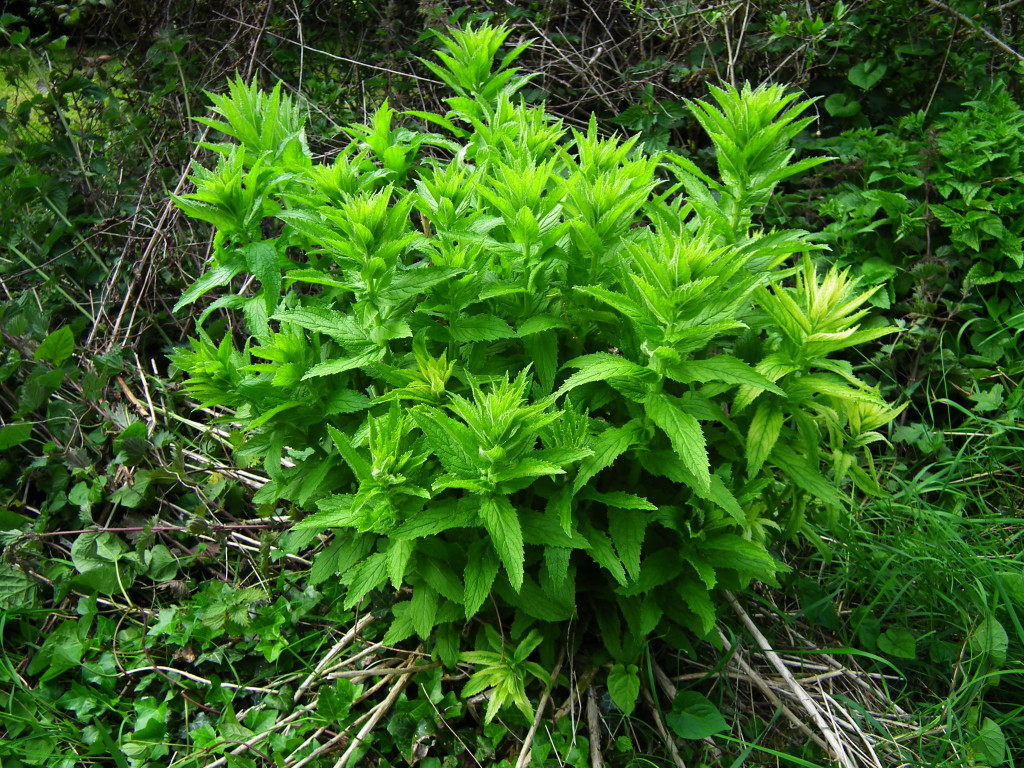 This perennial tends to grow upwards more than outwards as many of the other species of Campanula do.
The leaves and the flowers are edible.
Cardamine pratensis Lady's smock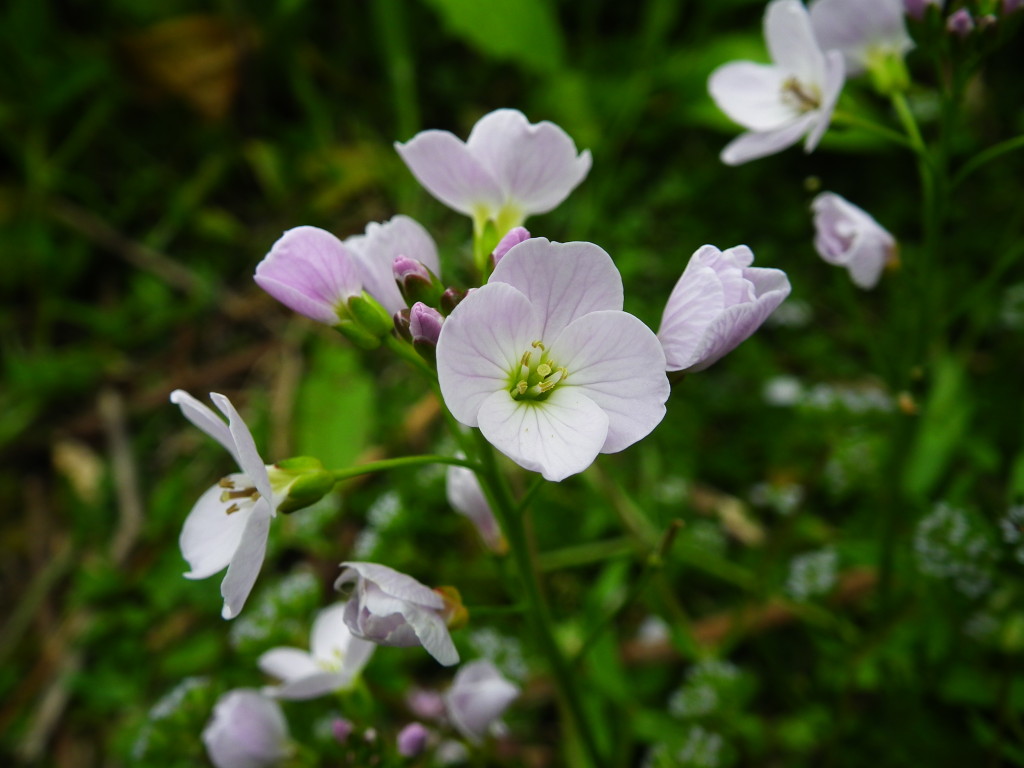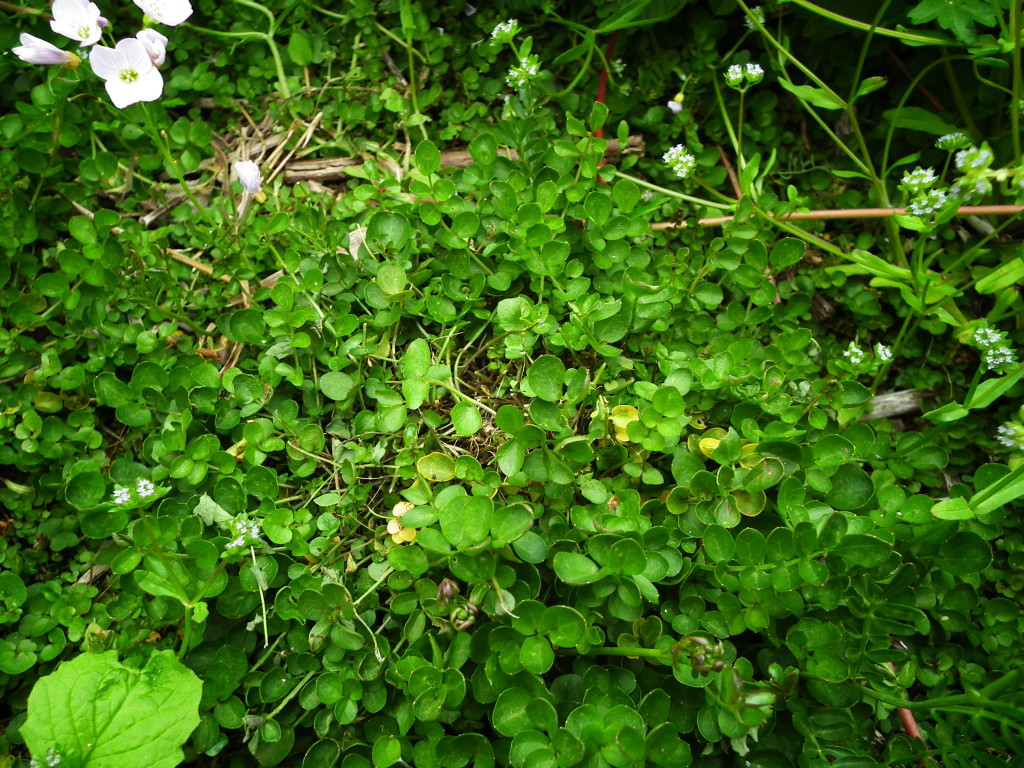 This is a larger, clump forming perennial version of C. Hirsuta and can be used in the same way
Rumex acetosa Polish sorrel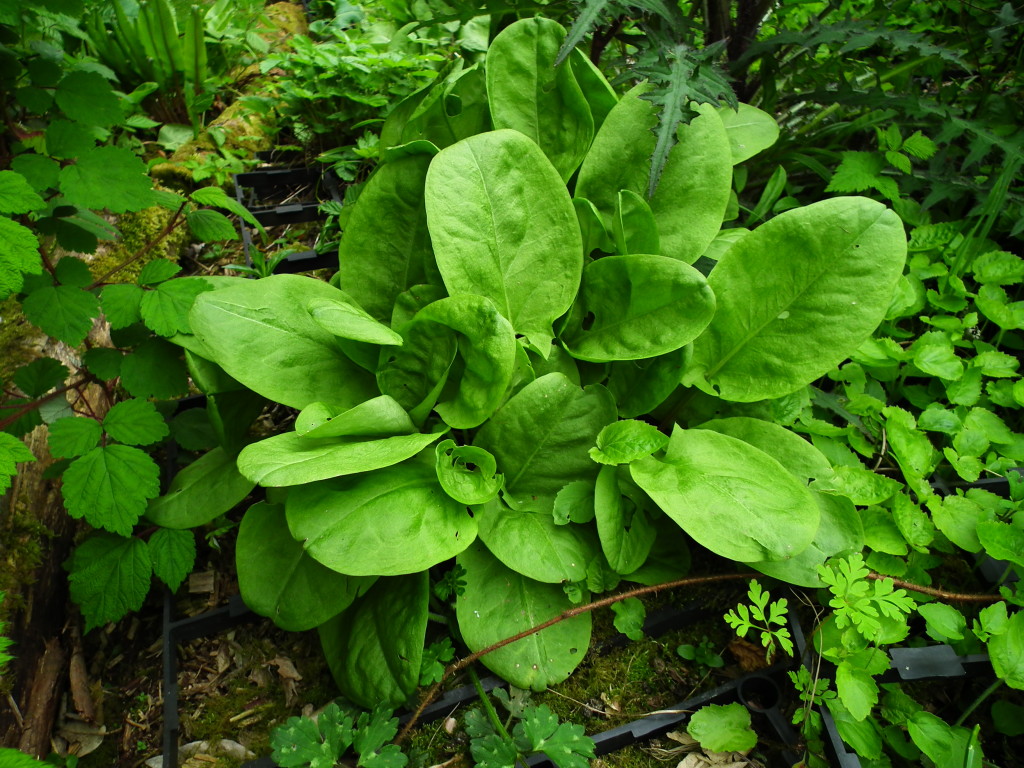 The leaves have an acid lemony flavour.Sorrel exists in both wild and cultivated forms. This one is a superior cultivar, because fresh leaves are available throughout most of the year
Oxalis oregana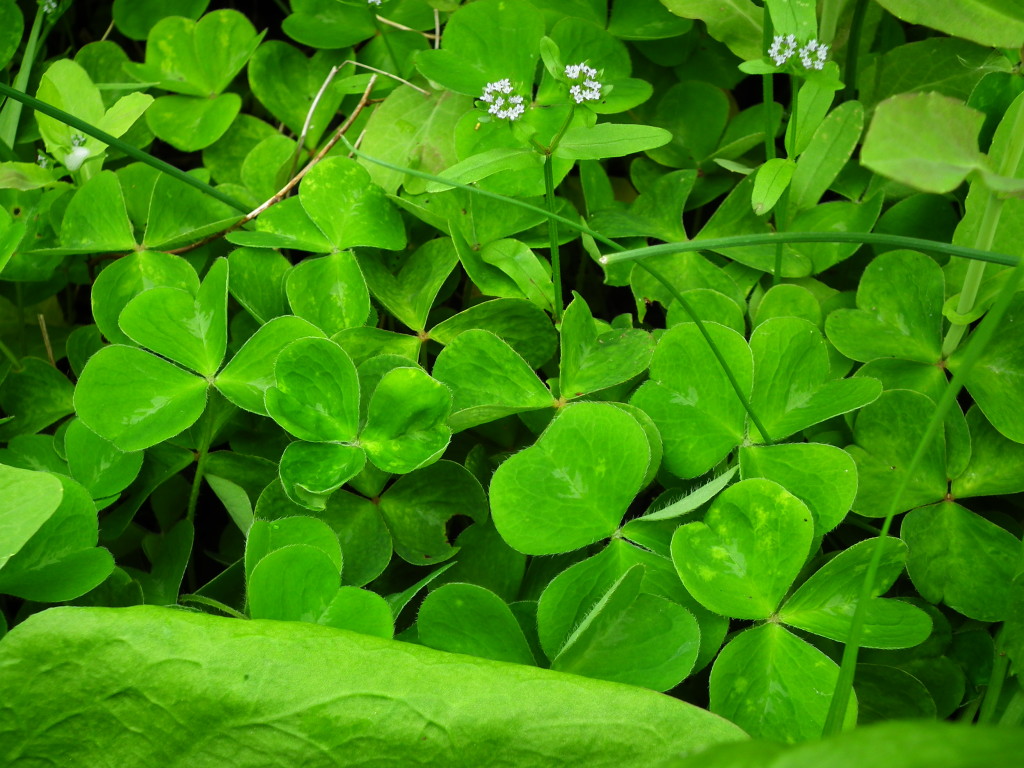 This form of sorrel is related to our native wood sorrel, except that it is bigger. The leaves have a more subtle flavour than Rumex acetosa.
Allium neapolitanum (Daffodil garlic), Alliaceae
The beautiful, edible flowers are now out.
Rubus phoenicolasius Japanese wineberry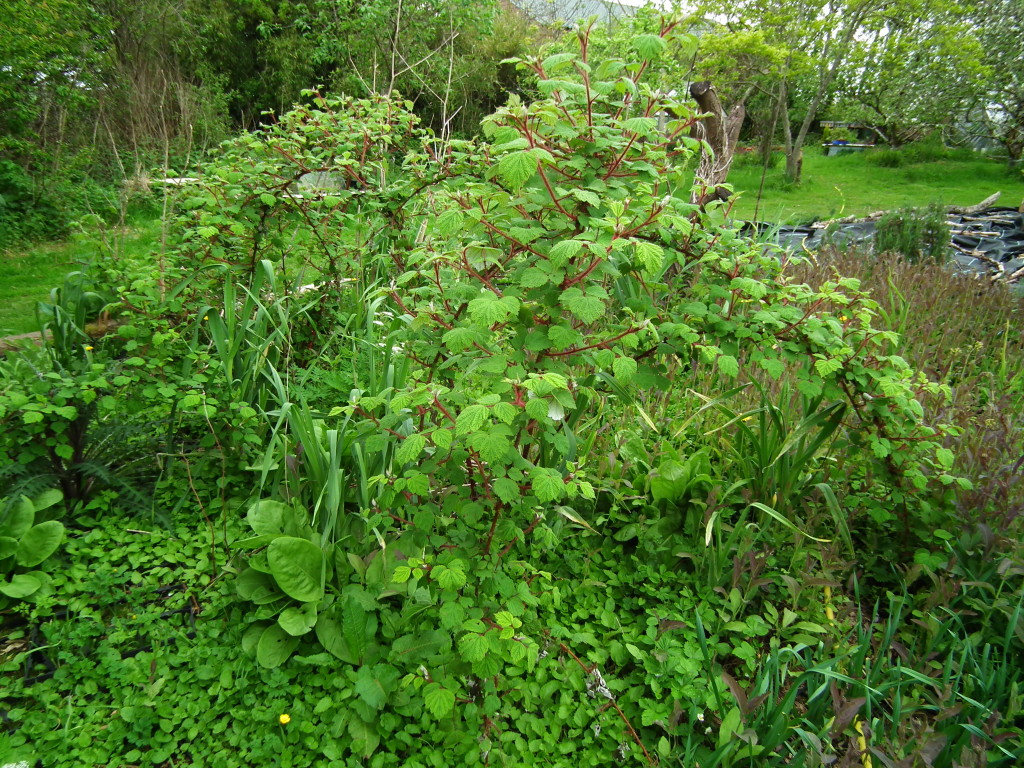 this is a delightful plant, with beautiful stems, leaves, flowers and fruits. The fruits are ready in July or August, and have a lovely flavour. They are also free from maggots , as the calyx closes up again to protect the developing fruit.
Houttuynia cordata (Orange peel plant)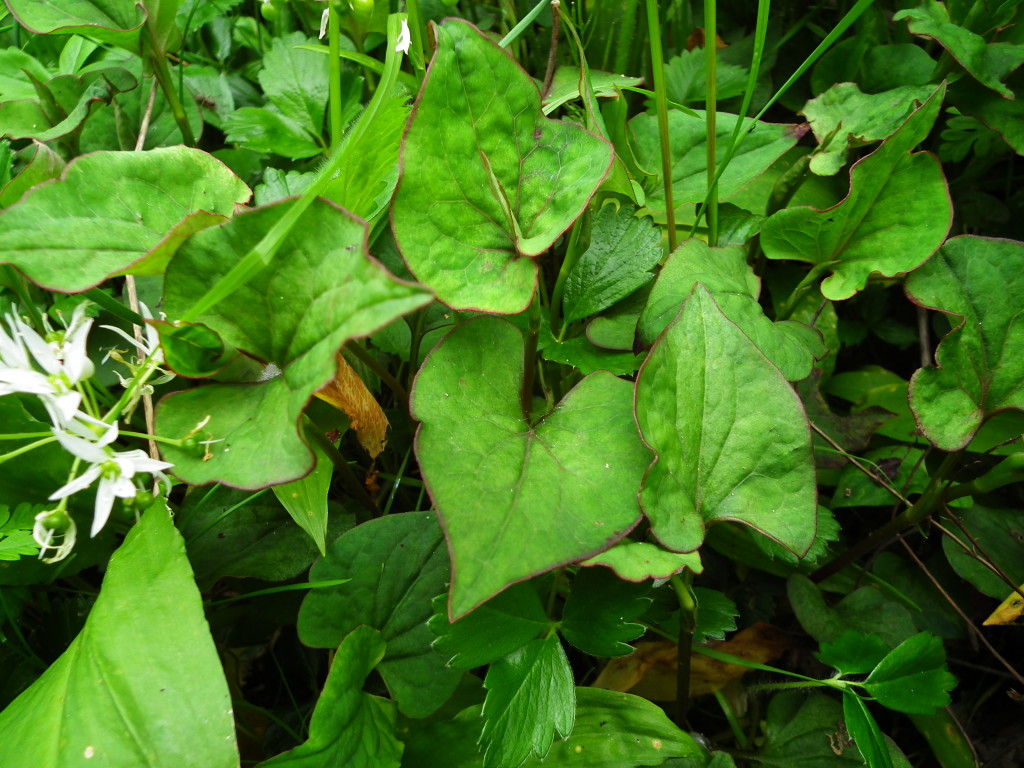 An intriguing plant with an intriguing flavour – as the name suggests. It has many medicinal uses, and small amounts can be added to salads
Rubus deliciosus (North American Raspberry)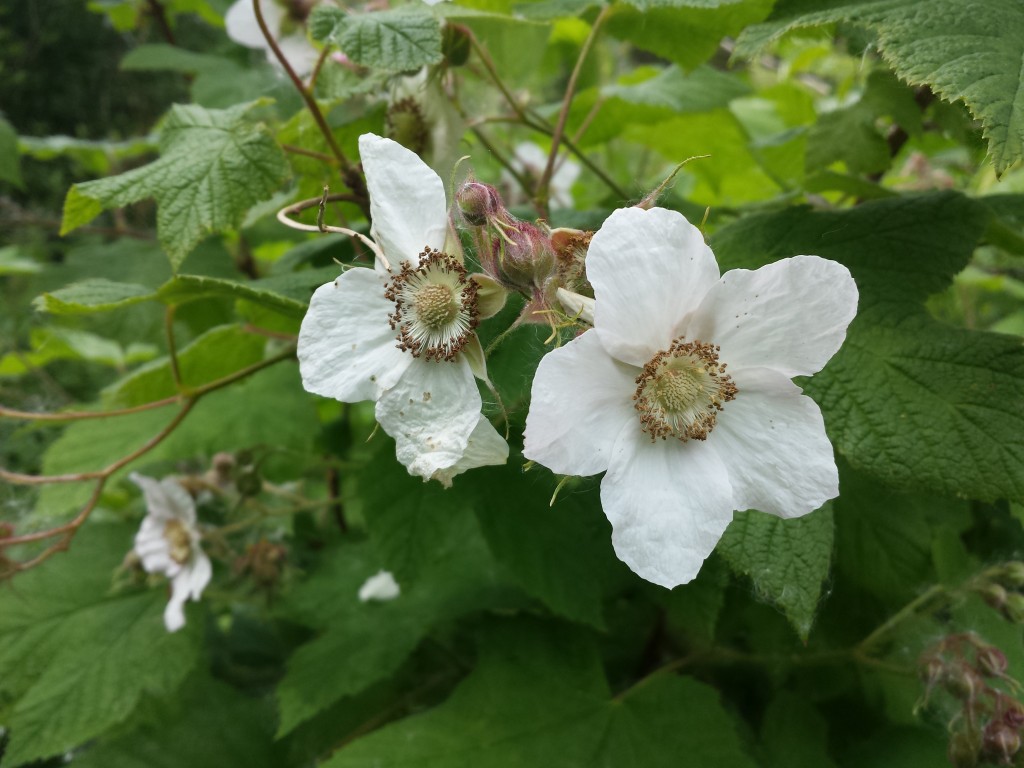 Cercis siliquastrum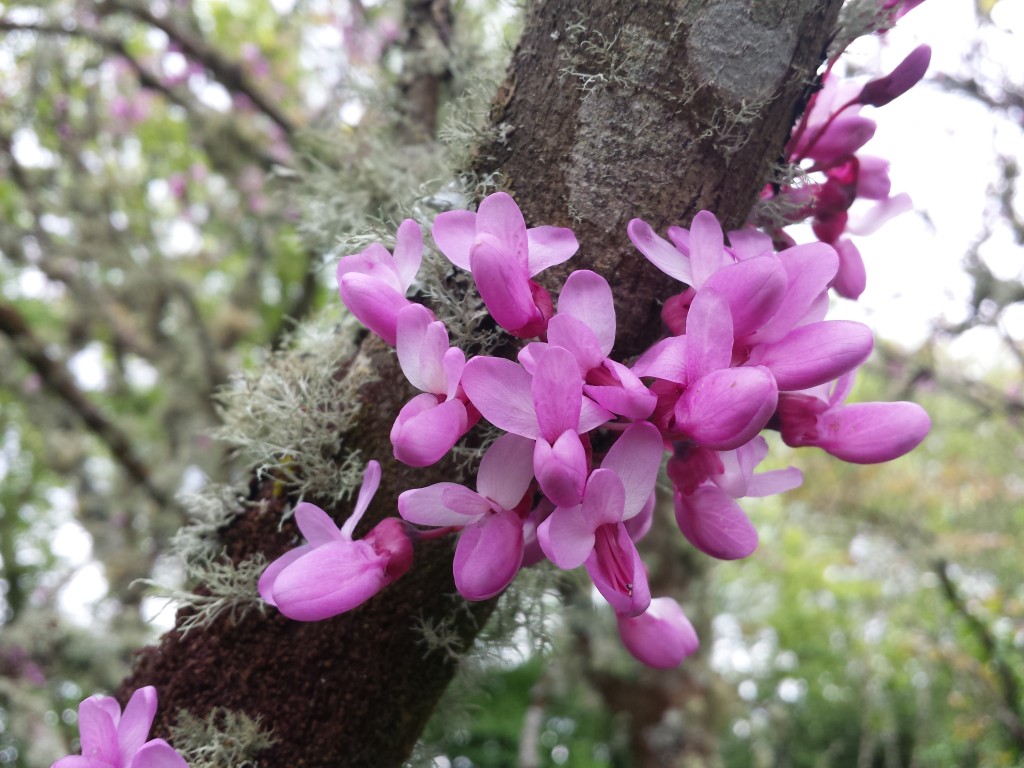 Edible flowers.
Melissa officinalis (Lemon balm)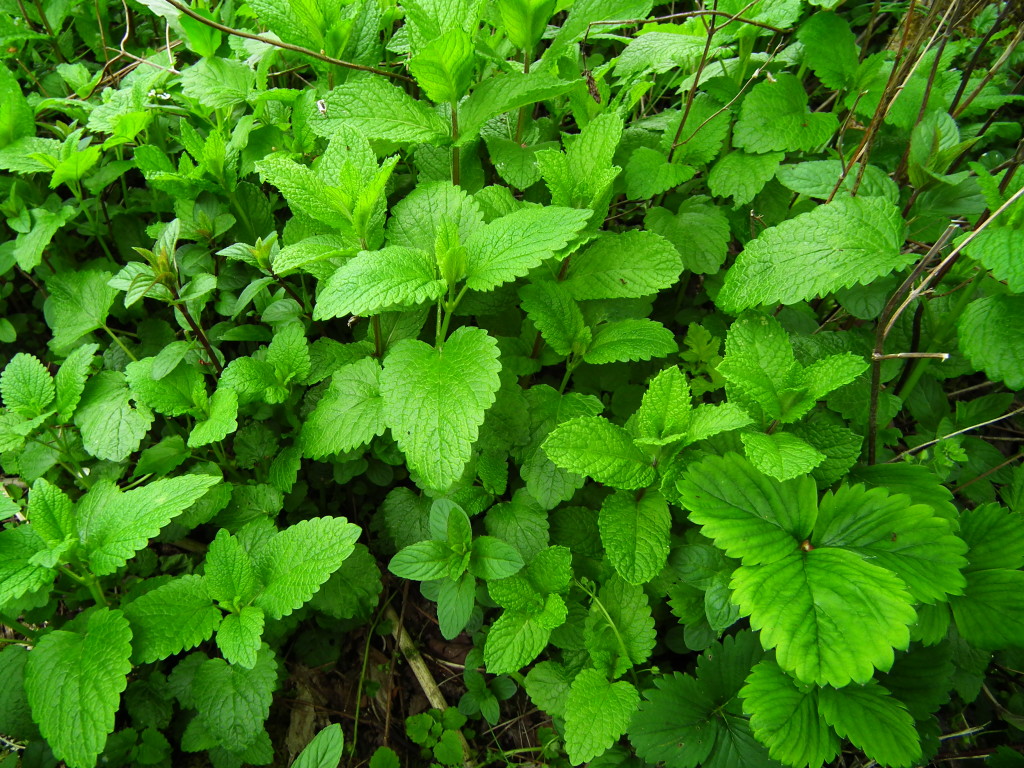 Like most other plants at this time of year, this nice and fresh and green. This can be used to make a pleasant soothing tea or added in small amounts to salads.
The following perennial medicinal herb can also be used in small amounts in salads or made into teas:-
Mentha piperita peppermint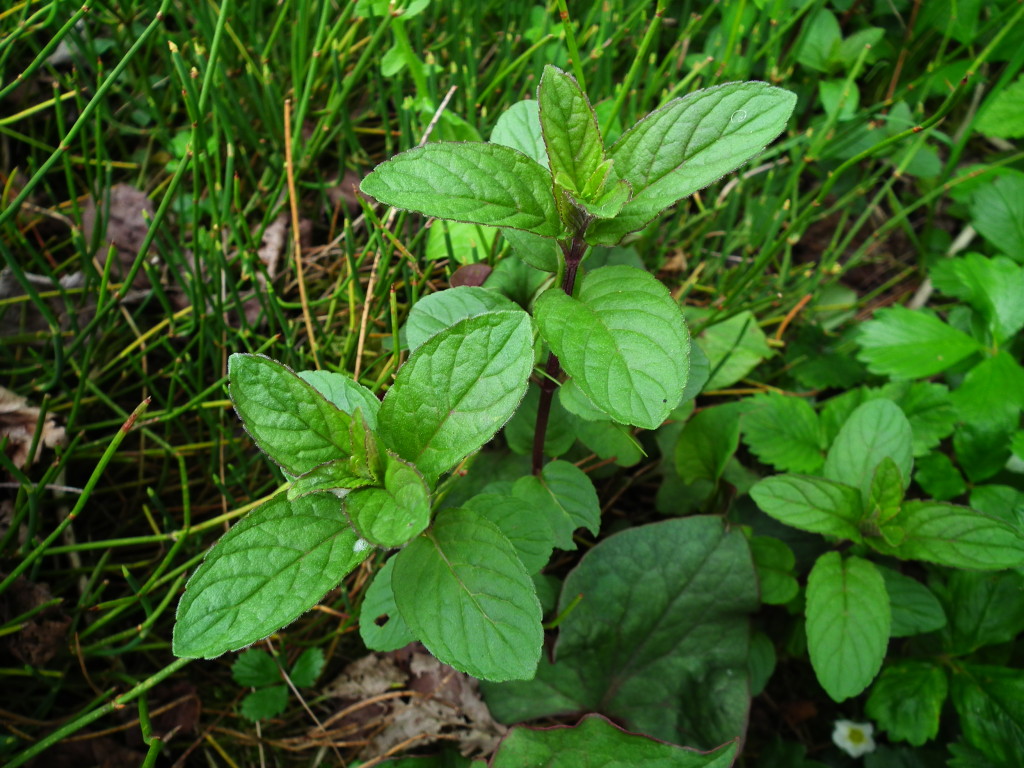 Thymus vulgaris thyme
Rosmarinus officinarlis rosemary
Salvia officinarlis sage
<p style="text-align: center;"><a href="http://creativecommons.org/licenses/by-nc-sa/4.0/" rel="license"><img style="border-width: 0;" src="https://i.creativecommons.org/l/by-nc-sa/4.0/88×31.png" alt="Creative Commons Licence" /></a>
May Walk by Ariadne Fern is licensed under a <a href="http://creativecommons.org/licenses/by-nc-sa/4.0/" rel="license">Creative Commons Attribution-NonCommercial-ShareAlike 4.0 International License</a>.</p>
<p style="text-align: center;"><a href="http://creativecommons.org/licenses/by-nc-sa/4.0/" rel="license"><img style="border-width: 0;" src="https://i.creativecommons.org/l/by-nc-sa/4.0/80×15.png" alt="Creative Commons Licence" /></a>
Photos by by <a href="ajna.theferns.info" rel="cc:attributionURL">Ajna Fern</a>, licensed under a <a href="http://creativecommons.org/licenses/by-nc-sa/4.0/" rel="license">Creative Commons Attribution-NonCommercial-ShareAlike 4.0 International License</a>.</p>